As PacPrint returns after a long, pandemic-induced break, Konica Minolta plans to propel the print and graphic communications industry into a 'new step of evolution' with its PacPrint showcase.
"The time is now for print businesses to evolve beyond where they are today to succeed in the future," says Tatjana Ferguson, Product Manager, Production and Industrial Print, "and Konica Minolta will have the innovations to equip them for that success."
Ferguson says the Konica Minolta team is excited at the prospect of seeing customers in the print, label, and packaging market 'face-to-face' at PacPrint, and to demonstrating its new innovations live.
"Konica Minolta will be launching the AccurioPress C7100 series at PacPrint – a new line sure to generate a lot of interest. The C7100 series incorporates many features and enhancements of high-end Konica Minolta production engines, to deliver a high-speed, high-capacity machine that is sure to impress.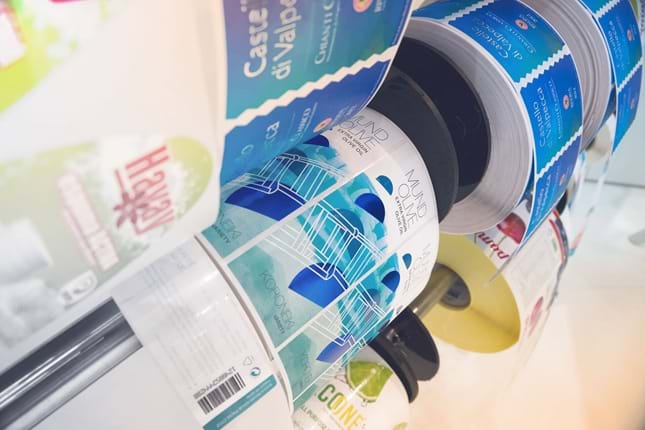 Labels will be a feature of the Konica Minolta stand

"With a print speed of 100ppm in brilliant colour or black and white, and a high 15,000 sheet paper capacity, the AccurioPress C7100 will get you rethinking agility," Ferguson continues. "It also has a large range of flexible inline finishing options including the TU-510 option for trimming, creasing and perforation and other options for perfect binding, booklet saddle stitching, folding and auto ring bind finishing."
Also featured on the Konica Minolta display will be the C7100 series, which follows on from the success of the AccurioPress C14000 series and AccurioPress C4080 series – a development which completes the full refresh of the Konica Minolta colour portfolio.
"All three print engines will be demonstrated at PacPrint," Ferguson announces, "and we'll also be showing for the first time in Australia Konica Minolta's full-service label offering, incorporating the globally successful AccurioLabel 230 and the Grafisk Maskinfabrik range of finishing solutions.
"These are backed by superior support, a diverse product offering, and innovative finishing and embellishment options to help printing and packaging businesses evolve and thrive beyond today. We're looking forward to welcoming visitors onto the stand so they can hear and experience from our team how to ignite the future of print in their business."
Konica Minolta will be on Stand F02 at PacPrint, which will co-locate with Visual Impact Expo and the Label & Packaging Expo at the Melbourne Convention & Exhibition Centre from 28 June to 1 July. Click here to register for the show, or go to www.pacprint.com.au for more information.